Welcome to the April edition of Monday Market Minute with Carrie McCormick!
In this episode Carrie speaks about how the spring market has been a bit slower than last year and how lower inventory has resulted in increased competition. She also talked about the importance of first exterior impressions with buyers. I provide a marketing tip on why brokers should start a 60 second video series on Facebook and Instagram to hook consumers into their content.
Carrie can be reached at carrie@atproperties.com or by phone at 312.961.4612.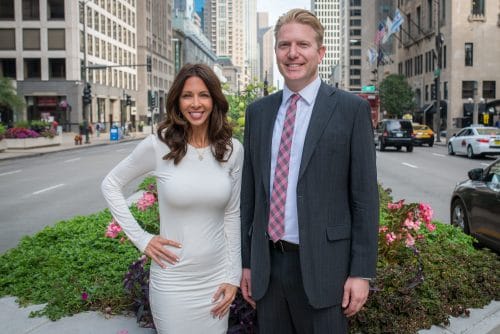 ---
Transcript
D.J. Paris 0:00
Hello and welcome to another episode of Keeping it real. The only podcasts made by Chicago real estate brokers for Chicago real estate brokers and my name is DJ Paris. Today is our monthly episode The Monday market minute with Carrie McCormick. So welcome Carrie to the show.
Carrie McCormick 0:16
Hello, hello. Thanks for having me as always,
D.J. Paris 0:19
well, we love having Carrie on the show because not only is she a top one percenter, in fact, she's way more than a top one percenter, I'm gonna brag for her because she would never do this. But she is in there are 42,000 realtors in the Chicagoland area. So I want to start by saying that is a pretty vast pool of Realtors carry so far this year. 2018 is the 20th highest producing broker in Chicago. So congratulations, as always, which by the way is not unusual for Carrie, but I wanted to bring it to listeners attention, because we're so grateful that she does this show and does this episode once a month. What we do here is Carrie talks about the market and also is always willing to answer your questions too. So Carrie, tell and by the way, Carrie has been a realtor for 20, year, 19 years, almost 20 years, and everybody loves Carrie. So tell us a little bit about what's going on in the market.
Carrie McCormick 1:15
Sure. So you know, I always look back as Mark marches because it sets the pace for the Chicago real estate market. And last March last month, lived up to the hype. So looking at the numbers. And being out in the field, you know, boots on the ground, I see some signs of the market. entering into a new phase, my feeling is that this year's spring market is definitely going to be a lot softer than last year's market. So last year, in 2017, our spring market started off quickly right after the new year, it was like January 3, it was in full force in effect this year. It's you know, here we are, you know in April already, we are just now starting to see signs of it ticking up. So it's definitely a little bit slower than last year. Now everyone's been hearing and talking about the shortage of inventory that we have here. And how it's made competition pretty fierce for home buyers. And it's true. Anytime something that comes on the market, we're starting to see multiple offers on it prices are getting escalated. And in the past few weeks, the number of homes for sale in Chicago has actually been trending slightly in the upward direction.
D.J. Paris 2:32
So what is what does that all mean?
Carrie McCormick 2:34
So it means that more inventory means less competition, and of course less competition ultimately has an effect on home prices. The median sales price still have increasing overall, it's been increasing overall, but at a lesser rate than last year. Now, the median home sale price has increased 2.4% since March of last year. So not a big increase. But don't get me wrong, this the market is still really strong in the supply of homes for sale or lack thereof is still playing a big part in the competitiveness this spring market. And one other thing to talk about real quick is that homes that went under contract last month in March, we're on the market for median time of 14 days, which is only one day longer from last year. So I always like to compare, you know, this spring market versus last spring market and the home times that are on the market are pretty close to last year.
D.J. Paris 3:41
Yeah, it certainly seems that way. And so what are you telling your clients to do to get ready sort of through this season?
Carrie McCormick 3:48
Yeah, so because our spring market has started a little bit later and we let's all be honest, this weather. This spring has been very disappointing. I mean, we have snow, we have rain, we have 70 degrees, we have 20 degrees, it's been all over the board and a lot of my sellers have been holding off on doing any exterior work, curb appeal because we just don't know what the weather's gonna bring. But you know, I think we're on the horizon of some sunshine and some warmer weather so I'm telling my sellers to definitely focus on the exterior of their home. Curb appeal is so important. Do any paint that you need to do power washing, paint your front door paint any you know trim that's coming off, start planting, you know, there's some shrubs and flowers that can withstand this weather. So get something nice out on the porch, put some colorful pillows out that curb appeal means so much so start getting ahead and getting that done.
D.J. Paris 4:48
Yeah, I couldn't agree more. We just hired at our firm very similar to a Kerry's mentioning as Hey, that first impression. When somebody steps out of the car or walks up to the property the first thing you They're gonna it's going to elicit an emotional reaction. Of course, homebuying is an emotional decision, obviously. And the first impression is pretty important. So we just hired somebody here at our firm, which is the director of first impressions, which a lot of firms are now doing so that when people walk through the door here at our office, they have a good first impression as well. And I also wanted to say that Carrie brings up a really good good point, aside from it being a really smart idea to get the exterior ready, as realtors and the vast majority of people who listen to the show are brokers in Chicago, you need to know this information, you need to be able to tell your your sellers exactly what to do, where to go, who to contact, to make those, you know, maybe minor or major exterior improvements. And if you're a realtor, and you don't yet have that information, work on developing that over the next year, so that you can, you know, number one, it helps justify, you know, the expense for the seller when they're working with you, because you're actually becoming really valuable. So, you know, I think somebody like obviously, Kerry has that information. And all realtors should aspire to be able to tell their sellers exactly what to do. Agree. Let's, let's move on to our mark our marketing minute, which I had a quick, quick one. So a lot of people have been disappointed over their last many, many years. With Facebook. In particular, if you have a page for your business, what you find is even the people that like that page, oftentimes don't see your post, it's the Facebook algorithm. And for better or for worse, you know if 30% of the people who like your page actually see your post, that's actually a pretty strong number. Now, it's not a very satisfying number. But one of the ways in which you can increase the amount of visibility to the people that actually want to read your stuff is by video. Facebook actually rewards video and Instagram does as well. Of course, they're owned by the same company. But what I was wrecked would recommend as getting people hooked on your content. By the way, Carrie does this with still images on Instagram better than any other broker I've ever seen. That is not an exaggeration. She's apps by the way, Carrie, can you plug your Instagram page so people can see?
Carrie McCormick 7:16
It's Carrie McCormack real estate?
D.J. Paris 7:19
Yeah, it's it's Carrie McCormack real estate, definitely check it out. And she does it all herself, which is even more impressive. One thing that I would encourage all brokers to do is start creating video content. And now with Instagram, you only get 60 seconds Facebook, you can kind of have an unlimited amount of time. But what I would do is not inside the Instagram app or the Facebook app, I would just take my phone, turn on the camera and record a 62nd piece. And in 60 seconds, you can get out one really good piece of advice. So maybe you create a series for buyers. first time homebuyers maybe or sellers. Or maybe, you know, here's, you know, here's what I do, if you're thinking about getting ready to buy or sell or, you know, I'm renting and what should I consider buy, you can get out one good tidbit in 60 seconds, and then you can post it directly to Instagram. And then you can then again, don't necessarily share it to Facebook, actually upload it directly to Facebook. And what you'll find is, if it's good content, and you only have 60 seconds, so you should be able to give one good piece of advice. You'll see this engagement improve. And if you do that once a week. And by the way, if you don't know what tips to tell, start Googling and looking, reading other blogs and take a look at other sources. So you can give tips, but get people hooked on your content. Carrie is amazing at getting people hooked on her content. Number one, she knows a lot. But she's able to put that out in social media in a way that is very compelling. So I would encourage everyone listening to start a little weekly, one minute video with a little tip for, you know, people who are interested in buying or selling or even renting maybe, or investing. And that
Carrie McCormick 8:57
is that's great advice. I do agree I do a little bit of video not as much just because of you know, a busy schedule. And I know everyone's got stuff to do. And that's why I do a little bit more still. But it is nice to share. You know my experiences where I'm at new properties coming on the market. And no, I think your advice on the video is fantastic.
D.J. Paris 9:20
Well, absolutely. I just like the I always tell people if you get people hooked on your content, that's a really, really good good thing. And I think oftentimes realtors, sometimes when they use social media, and when you do you do not do this, which I think is great, but some realtors literally just go, Hey, I have a new listing here it is and that's fine. But that's all they do. And I think give people more content more information and carries a great example of somebody who does that really well. So anyway, that's our episode for the week. If Carrie once again, if there's any buyer's or seller's renters out there that want to work with somebody like you and everybody would want to work with someone like you, how would they get? How would they get in touch?
Carrie McCormick 9:59
Sure. So you can Call me anytime at 312-961-4612. Or of course, you can send me an email at Carey, CA RR ie at@properties.com. And I always encourage anyone to give me a call if you have questions, comments if there's, you know, another realtor and you just want to kind of bounce some ideas off me social media questions, I'm always willing and happy to help in in chat.
D.J. Paris 10:29
And she is and she is as nice as you can imagine, and obviously very successful. She's a great pic if you need a realtor. So all right, that does it for this episode. We will see Carrie again in one month. Well, she will talk about April and in May so thank you, Carrie, and thank you everyone for listening. And please make sure to share this podcast with a friend visit us on Facebook which is keeping it real pod visit our website keeping it real pod.com Send us your questions. Would you like to ask Carrie a question? I know if I was out there producing as a realtor, I would want to ask a the top the 20 most successful broker for 2018 A few questions. So let's send us your questions and she will answer them. So thanks Carrie.
Carrie McCormick 11:11
Thank you have a great day.
Subscribe: Apple Podcasts | Google Podcasts | Spotify | Email